Click here to continue reading.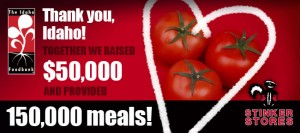 Idaho, together we raised $50,000, which equates to 150,000 meals! We are overwhelmed with the outpouring of support year after year!
This is $10,000 more than this year's ambitious goal of $40,000. And it is nearly three times the $17,246 raised last year and almost five times the $11,782 total of the first drive in 2011.
Thank you Idaho!
Stinker and the Idaho Foodbank are at it again, this year it gets even better!
Since 2011, Stinker Stores'Stomp Out Hunger campaign has raised more money each year. For 2013, the company has decided to go above and beyond.
In 2011, Stinker and its customers donated nearly $11,800. In 2012, it was more than $17,000. This year the goal is $40,000.
From Nov. 7-Nov. 17, Stinker will match, up to $20,000, every dollar customers donate at its 65 retail sites in Idaho. If the fundraising campaign hits the $40,000 goal, it will provide 120,000 meals for Idaho families and their children.
"In Idaho, more than 96,000 children – one out of four – don't know where their next meal will come from or if they will even have one," said Charley Jones, owner of Stinker Stores. "That is why Stinker Stores is teaming up with The Idaho Foodbank to Stomp Out Hunger this holiday season. For every dollar our customers donate during this annual community fund drive, we'll match it up to $20,000. So please join our Stinker team and make a donation at any Stinker Store from Nov. 7-17, and let's Stomp Out Hunger in Idaho."
"We are thrilled and grateful to be able to partner with Stinker again," said Karen Vauk, President and CEO of The Idaho Foodbank. "This campaign makes it easy for people across the state to be involved, and they know every dollar they donate will be doubled. Stomp Out Hunger will make a huge difference for children and their families across Idaho this holiday season."
Stinker Stores, privately owned since 1936, is a leader in Idaho's convenience-store industry. Led by owner Charley Jones, Stinker has acquired and built over 30 new sites, and currently operates over 65 retail operations in Idaho with more than 500 employees. Stinker markets food, convenience items and "Eco-friendly" green fuels, such as E-85 and E-10 ethanol blended gas.
The Idaho Foodbank is an independent, donor-supported, nonprofit organization founded in 1984, and is the largest distributor of free food assistance in Idaho. From warehouses in Boise, Lewiston and Pocatello, the Foodbank has distributed over 120 million pounds of food to Idaho families through a network of more than 210 community-based partners. These include rescue missions, church pantries, emergency shelters and community kitchens. The Foodbank also operates direct-service programs that promote healthy families and communities through good nutrition. On average, the Foodbank network provides food 106,500 times a month.
Dr Pepper and Stinker Stores Announce Dr Pepper Hometown Tuition Giveaway for Idaho Students